Fry off to solid start in return with Team Jacobs at Meridian Canadian Open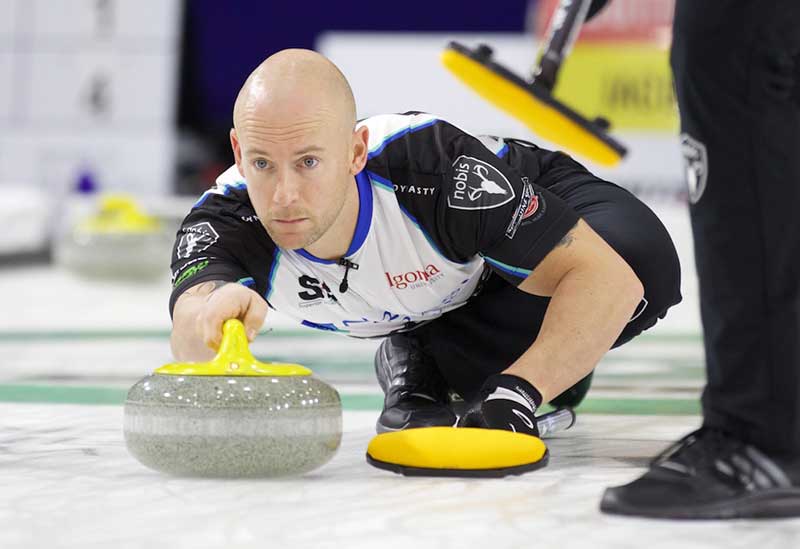 NORTH BATTLEFORD, Sask -- Jon Brazeau/Sportnet -- Ryan Fry is back and making up for lost time with Team Brad Jacobs.

Fry, who missed two events while taking a leave of absence, pitched a pair of nearly perfect games Wednesday at the Meridian Canadian Open in his comeback event with the Sault Ste. Marie, Ont., squad.

Team Jacobs splitting their matches to start the Pinty's Grand Slam of Curling event. The 40-year-old Fry threw 97 per cent in a 6-5 loss to Switzerland's Team Peter de Cruz during the morning/early afternoon draw while firing at a 96 per cent clip for their 7-3 victory over Saskatoon's Team Rylan Kleiter in the evening.

"The guys are three of my best buddies, so I missed them and it was great to be back out there," Fry said. "We'll take it. We played a pretty good day. De Cruz this morning played very well against us so they got us but we came back and it's nice to get this win here tonight."

Fry said the scorekeepers may have been a bit lenient with the numbers in the morning, but he believes he earned it in the evening.

"I've been spending the last six weeks really trying, on top of other things, to get my game together and I felt like I've done that," he said. "Hopefully, I can continue on through the weekend."

Team Jacobs won their fourth Pinty's Grand Slam of Curling title at the Tour Challenge Tier 1 in early November.

Fry spared with Jamie Koe's crew the following weekend at the Red Deer Curling Classic and the team was kicked out of the event due to unsportsmanlike behaviour on and off of the ice. The World Curling Tour reviewed the incident and issued Fry a $1,000 fine.

Fry apologized and announced he would be stepping back for a bit from the game.

Marc Kennedy, a winner of 12 Pinty's Grand Slam of Curling titles, filled in for Fry during the Canada Cup in December and helped Team Jacobs continue their winning streak capturing the title. Seven-time Pinty's Grand Slam of Curling title winner Matt Wozniak subbed at second the following weekend at the Boost National with E.J. Harnden moving up to third. Team Jacobs maintained their red-hot run going undefeated at 4-0 through round-robin play until losing to Team Glenn Howard in the quarterfinals.

There was no issue for Fry sliding back into the lineup and keeping the pace.

"I was very ecstatic to see them do so well in the Canada Cup and continue on into the National in Newfoundland, so nothing but excitement for them," Fry said. "Hopefully with me back, we can continue the success they did without me."

Meanwhile, Glenn Howard might want to invest in a reversible jacket.

Not only is Howard skipping his Penetanguishene, Ont., team in the Meridian Canadian Open, he's also behind the scoreboard coaching Eve Muirhead's Scottish squad.

Howard, who has won 14 GSOC titles as a skip, had to juggle both roles back-and-forth Wednesday with Muirhead on the ice twice plus his own game sandwiched in the draw between. The 56-year-old Howard handled the hectic workload with ease defeating Sweden's Team Niklas Edin 4-2 while Muirhead downed Sweden's Team Anna Hasselborg 7-2 and earned a 6-2 victory over Team Casey Scheidegger of Lethbridge, Alta.

"No problem at all," Howard said with a smile. "The fact I stay and hang around here, have a bite to eat, kind of relax in the changeroom and don't get myself into any trouble."

"It's busy but a lot of fun," he added. "On the same token, as I'm helping the girls out I'm reading the ice as well. It helps me for my team."

Both Howard and Muirhead hold 2-0 records and are into the A-finals and one win away each from advancing to the playoffs with three opportunities to qualify.

"Obviously, couldn't be happier," Howard said. "Eve and the girls are playing well, we're playing well, so it's been a hell of a start to this Slam. I couldn't ask for any better right now."

The Meridian Canadian Open is the only one of the seven Pinty's Grand Slam of Curling events to feature triple knockout where teams must win three games before they lose three in order to qualify for Saturday's quarterfinals. The semis are also set for Saturday with the finals scheduled Sunday.

Howard, who is one of the Original 18 skips in the series, said he welcomes the switch as it allows teams to control their own destiny with direct paths to get into the playoffs.

"There's no can we get in if so-and-so beats so-and-so, do you have the right draw-shot challenge, do you have the right blah, blah, blah," he said. "You don't have to worry about that. Just try and win three before you lose three, so that makes it a little bit simpler.

"I like the change-up. I love the fact that they make the Slams all a little bit different with the Elite 10 and now the triple and the sort of thing."

Howard will play Scotland's Team Bruce Mouat in the A-finals Thursday. Muirhead meets Japan's Team Satsuki Fujisawa, who tripled up on Winnipeg's Team Jennifer Jones 9-3 in the evening draw.

Edmonton's Team Brendan Bottcher are through to the other A-final and will take on De Cruz. Both teams climbed to 2-0 records with Bottcher beating Regina's Team Matt Dunstone 6-3 and De Cruz topping Calgary's Team Kevin Koe 6-4.

The three-time junior provincial champions Team Kleiter, who received the sponsor's exemption spot, slipped into the C-side with a 0-2 record following their loss to Jacobs.

The Meridian Canadian Open action resumes Thursday with Draw 6 at North Battleford's Civic Centre at 8 a.m. local time. Broadcast coverage begins with Draw 7 at 12:30 p.m. ET on Sportsnet, Sportsnet NOW (Canada) and Yare (international).

NOTES: The Meridian Canadian Open is the fifth event and third major of the 2018-19 Pinty's Grand Slam of Curling season featuring 16 of the top men's teams and 16 of the top women's teams from around the globe. | Standard Pinty's Grand Slam of Curling rules apply: games are played to eight ends, the five-rock rule is in effect and teams receive 33 minutes of thinking time plus two, 90-second timeouts. | The combined purse is $250,000 with the winning teams earning $30,000 plus berths to the season-ending Humpty's Champions Cup.