Bruce Mouat wins Stu Sells Oakville Tankard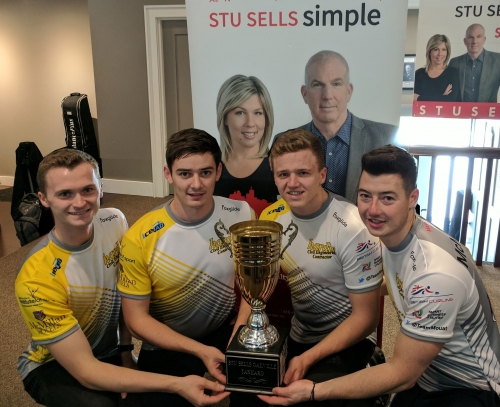 Bruce Mouat (Edinburgh, SCO) wins the Stu Sells Oakville Tankard, defeating Chang-Min Kim (Uiseong, KOR) 6-4 at the Oakville Curling Club in Oakville, Ontario, Canada. Mouat with Grant Hardie at third, and Bobby Lammie and Hammy McMillan Jr. on the front end take home the $8,000CDN first place cheque along with 46.857 world ranking points, while Kim receives $4,000CDN and 36.817 world ranking points for their second place finish.

Starting with hammer, Mouat blanked the first 2 ends, then got on the board scoring 1 in the third end. Kim responded in the fourth end scoring 3 to take a 3-1 lead. Mouat scored 2 in the fifth end to tie then game, forced Kim to a single in the sixth end before taking back the lead for good in the 7th end with 2. Up one point without the hammer, Mouat then stole the 8th end for the 6-4 win.

In the semifinals, Mouat defeated Tanner Horgan (Sudbury, ON) 6-5 and Kim defeated Heath McCormick (Blaine, Minnesota) 8-5. McCormick and Horgan earned $3,000CDN and 28.449 ranking points for their semifinal finishes. In the quarterfinals, Mouat defeated Kyle Smith (Perth, SCO) 8-3, Kim defeated Greg Balsdon (Kington, ON) 8-7 in an extra end, while McCormick defeated Rui Liu (Harbin, CHN) 5-4 in an extra end and Horgan defeated Pat Simmons (Winnipeg, MB) 3-2 also in an extra end. Balsdon, Liu, Smith and Simmons earned $2,500CDN along with 20.082 ranking points for their quarterfinal finishes.

Mouat went 4-0 in the 24 team triple knockout qualifying round. In their opening game, Mouat defeated Rob Ainsley (Toronto, ON) 6-4, won against Greg Drummond (Stirling, SCO) 7-2, and then again Horgan 7-6, where they defeated Brady Clark (Seattle, WA) 4-3 in the A Qualifier game to reach the playoffs.