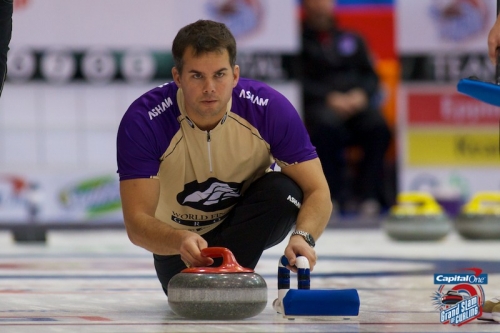 Born: Dec 20, 1973
in Winnipeg, Manitoba
Resides: Sherwood Park, Alberta
Throws: Right
Profession: Business Owner, Timber Castle Log Homes
High School: Oak Park High, Winnipeg
College/University: University of Manitoba
In Own Words:
Curling is a family sport that my parents got me interested in at a young age. I grew up with the Brier as the ultimate goal in the sport, but now with the Olympics, this has become a big focus. Along with curling, barefoot waterskiing has been my other passion, competing for Canada between 1991 and 2000. My family has also grown to love the water, as we spend as much time as possible in the summer and winter out at our lake home.[cr][lf][cr][lf]Along with sport, business and family make for a full schedule. I have 2 wonderful daughters, and a wife who is just as busy and competive in the sport (Heather Nedohin).[cr][lf]
Curling Highlights:
2001/02/03/05 Brier Winners[cr][lf]2001/02/03/04/05 Provincials Winners[cr][lf]2002/03/05 World Champions[cr][lf]2006 Players Champions[cr][lf]3x Canada Cup Champion[cr][lf]2 Grand Slam Titles[cr][lf]TSN and M&M Skins Titles
Junior Highlights:
Provincial finalist in early 90's.

BANNER