Yusuke Morozumi wins Karuizawa International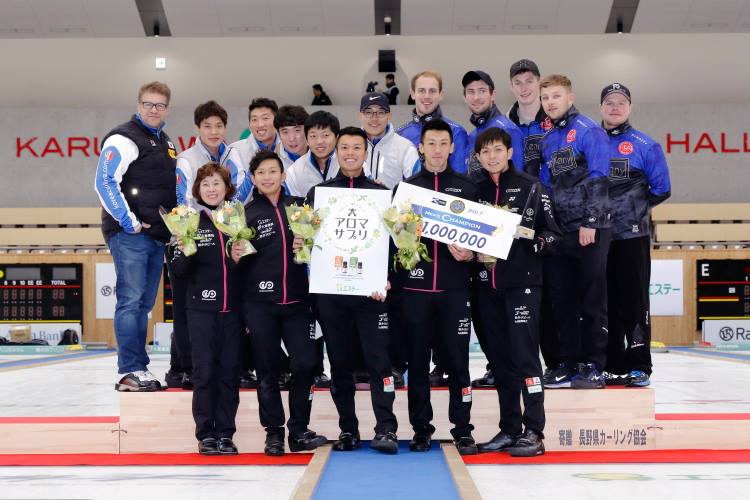 Yusuke Morozumi (Karuizawa, Japan) wins the Karuizawa International, defeating Chang-Min Kim (Uiseong, Korea) 5-4 at the Karuizawa Ice Park in Karuizawa, Japan. Morozumi with Tetsuro Shimizu at third, Tsuyoshi Yamaguchi and Kosuke Morozumi on the front end take home the $11,422CDN first place cheque along with 28.482 world ranking points, while CM Kim receives $6,853CDN and 22.378 world ranking points for their second place finish.

Kim opened the scoring stealing 1 in the first end, with Morozumi responding in the second end scoring 2. Morozumi forced Kim to a single in the third end, then scored a single in the fourth end to lead to 3-2. Morozumi added a steal in the fifth end, then forced Kim to a single in the sixth end. Kim added a steal in the seventh end to tie the game into the final end where Morozumi scored a single in the eighth end for the 5-4 win.

Kyle Smith (Perth, Scotland) defeated Patric Mabergs (Skelleftea, Sweden) 6-4 in the bronze medal game. Smith won $4,569CDN, while Mabergs won $2,284CDN along 17.292 ranking points for their finishes.

In the semifinals, Morozumi defeated Mabergs (Skelleftea, SWE) 7-1 and CM Kim defeated Kyle Smith (Perth, SCO) 5-4. In the quarterfinals, Morozumi defeated Junpei Kanda (Tokyo, JPN) 6-3, CM Kim defeated Arihito Kasahara (Tokyo, JPN) 6-3, while Mabergs defeated SooHyuk Kim (Gangwon, KOR) 4-1 and Smith defeated Peter De Cruz (Geneva, SUI) 6-4. De Cruz, Kanda, Kasahara and SH Kim earned $1,713CDN along with 12.206 ranking points for their quarterfinal finishes.

Morozumi went 4-0 in the 15 team round-robin pools qualifying round. In their opening game, Morozumi defeated Shinya Abe (Sapporo, JPN) 10-7, won against Hayato Matsumura (Karuizawa, JPN) 5-4, and De Cruz 8-4, then defeating Kenji Komoda (Sagamihara, JPN) 7-2 in their final qualifying round match to advance to the playoffs undefeated.