Kevin Koe Wins Players Championship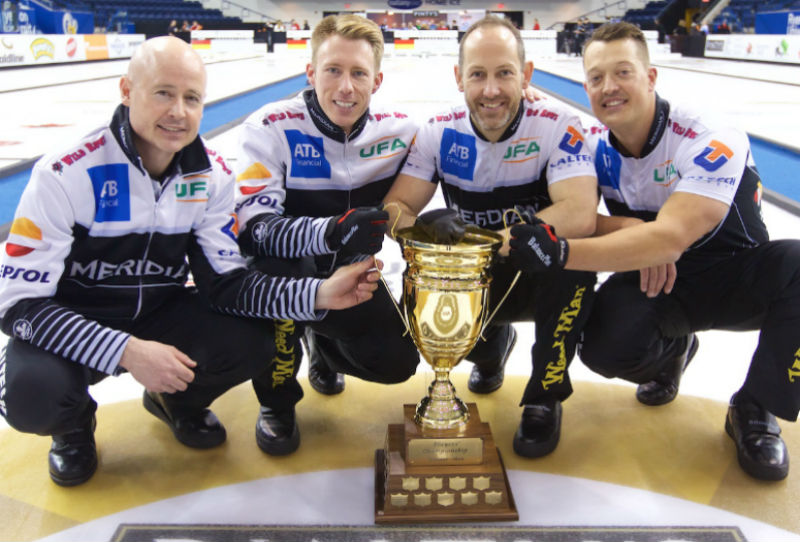 Koe (photo by Anil Mungal) defeated Sweden's Niklas Edin 6-2 to win first Players' Championship title as a team.

TORONTO - For Edmonton's Kevin Koe, the season coming to a close will also be the end of a team put together to compete with the best in the world and this week at the Players' Championship they were full merit for their Players' Championship win over Sweden's Niklas Edin.

Koe shot a blistering 91%, making several highlight reel shots en route to the 6-2 win at old Maple Leaf Gardens, now the Mattamy Athletic Centre in Toronto. For Koe and his team of third Marc Kennedy, second Brent Laing and lead Ben Hebert, the win is their second Grand Slam title.

After blanking the first end, Koe scored two in the second with a hit to take the early lead. After Edin was forced to draw for their single in the third end against five Koe counters, Koe came back with a beautiful soft-weight double to score a single, moving the two Edin rocks just far enough.

After Edin drew for another single point in the fifth then, Koe was left with a short redirect double for two more points in the sixth end and dominant 5-2 lead. A steal by Koe in the seventh end sealed the victory when Edin missed a runback attempt.

On Saturday Koe won 5-4 over John Epping of Toronto in the quarterfinals, then drew the four-foot in an extra end in the semifinal to defeat Mike McEwen of Winnipeg 5-4 and advance to the final.

Koe went 5-0 in the round-robin, with wins over Epping (7-3), Brad Gushue (10-8), John Shuster (8-5), Reid Carruthers (6-5) and Brendan Bottcher (6-4) going on to finish the Players' Championship with an undefeated 8-0 record.