Jamie Sinclair Wins Players' Championship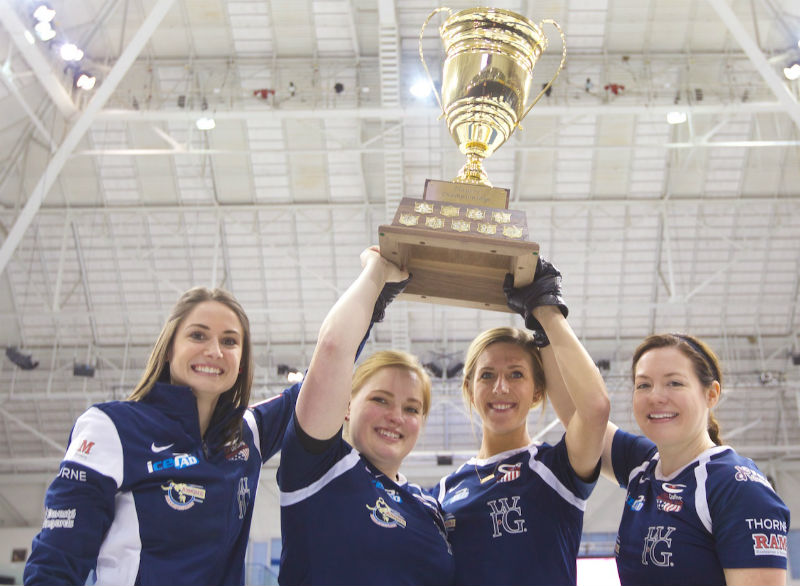 USA's Jamie Sinclair (photo by Anil Mungal) came out aggressive in Players' Championship Final defeated Jennifer Jones 7-2 to capture first ever Grand Slam title.

TORONTO - USA's Jamie Sinclair finished off a strong run through the Players' Championship playoffs with a 7-2 win over Jennifer Jones of Winnipeg to capture the first Grand Slam of Curling title for a United States based team.

For Sinclair, an Alaskan-born curler who spent much of her time growing up in the Ottawa area, this win is a breakthrough both for her team of third Alex Carlson, second Vicky Persinger and lead Monica Walker and for USA Curling which has seen some big wins this season.

After a blank in the first end, Sinclair stole the second end when a missed hit saw Jones give up their first steal of the week. Sinclar continued to apply strong pressure to Jones, stealing two in the third end and another point in the fourth end when missed runback left Sinclair with a 4-0 lead at the break.

Jones had a tough hit in the fifth end for two, but rolled an inch too far and settled for a single, then stole a point in the sixth end when Sinclair missed a hit on a mostly buried stone trying to end the game. For Sinclair the seventh end was the death blow, left with a hit and slight roll to the inside, made it and scored 3 points to end the game.

Sinclair was full marks for the victory, defeating Switzerland's Silvana Tirinzoni 4-3 in the semifinals and Olympic Gold-Medalist Anna Hasselborg in the quarterfinals on Saturday.

Sinclair went 3-2 in the round-robin to qualify for the playoffs. They opened with a 7-1 win over Satsuki Fujisawa, then improve to 2-0 with a win over Tinzoni. Sinclair dropped their next game 7-3 to Hasselborg but bounced back with a 7-3 win over Chelsea Carey. Kerri Einarson won the last round-robin game 7-6.