USA's Anderson/Dropkin joins Canada in Mixed Doubles Final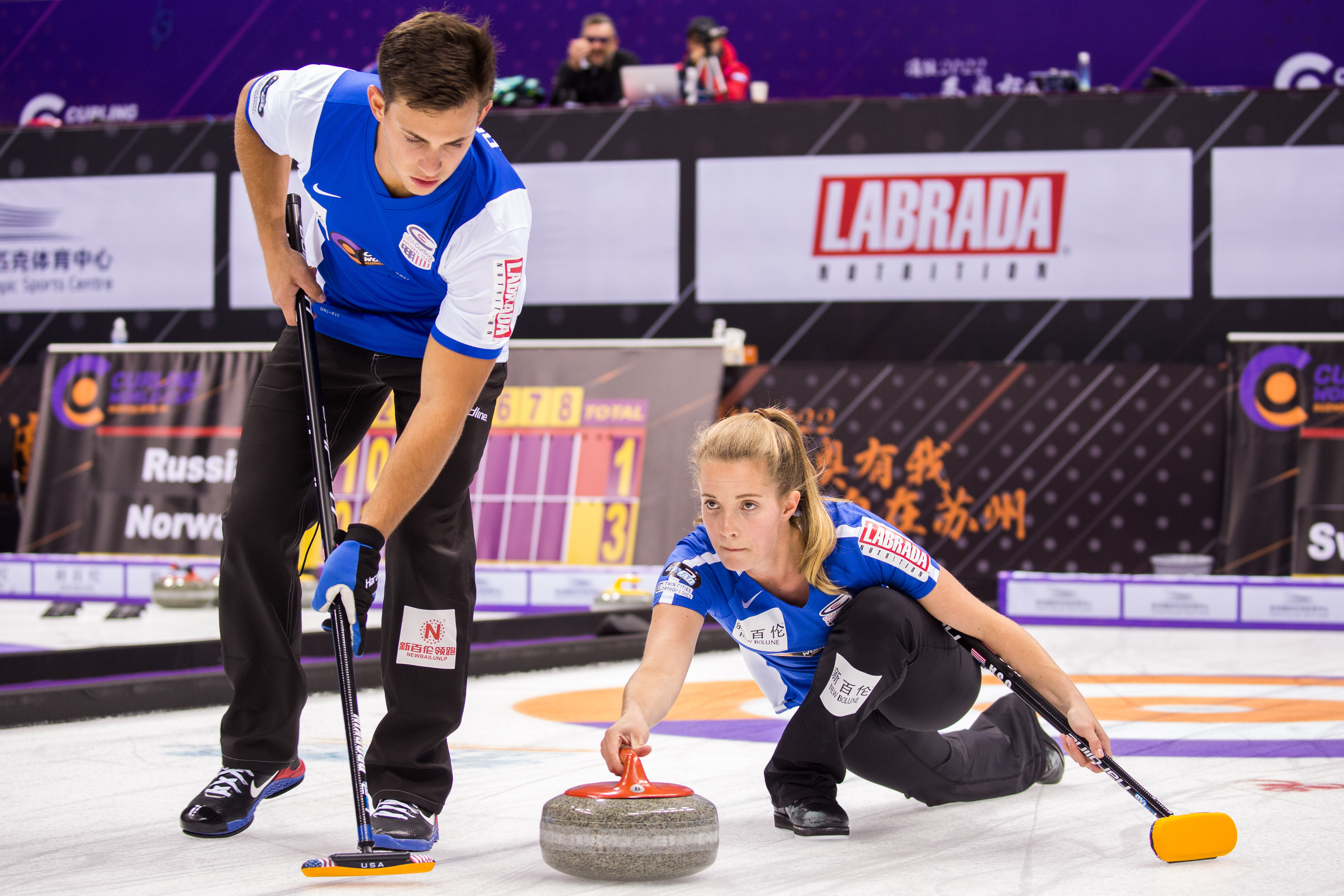 Tense last-end victory over Switzerland maintains perfect record for USA's Sarah Anderson and Korey Dropkin (WCT Photo by Celine Stucki).

Suzhou, China - United States pair Sarah Anderson and Korey Dropkin made it six wins from six in the Curling World Cup group stage to set up a mixed doubles final against Canada.

The US national champions were in the box seat going into their last group clash against Switzerland, who trailed them by three points and needed a win inside eight ends to force a shootout for a place in the final.

They were unable to do so, as a very tight, low-scoring encounter was snatched in the last end by a straight-forward takeout by Anderson for one which wrapped up a tense 5-4 victory.

United States became the only team across all three disciplines to go through the group stage unbeaten, but the pair's fluent form didn?t stop Dropkin predicting a 'grind' of a final against Canada in the morning.

He said: "Tomorrow's game is going to be a grind. Canada is a great team, we're great friends with them so it's going to be a fun game. We're going to try and keep it light out there, but obviously our eyes are fixed on the title. Hopefully in the end it will turn out for us."

On the evenly-balanced Swiss match, he added: "It was a very stressful game. Obviously we weren't focusing on the result, we were just taking it one step at a time. It was a battle back and forth, we got off to a bit of a rough start so we just tried to stay calm, cool and collected."

"I think we've managed the ice well. We have excellent communication and that's one of the things that helps us through it. Having an eye for that type of thing is crucial."

Earlier, in the second session, Canada's Kirk Muyres and Sarah Walker had already wrapped up qualification for Friday's final, but they certainly weren't prepared to take their foot off the gas.

Their 8-4 win over Sweden's Therese Vestman and Robin Ahlberg in the eighth end meant they finished on 15 points with a 5/1 record. The Swedes ended up fourth with five points.

In the same group, Norway won their dead rubber against Russia 6-3 to finish in second places on nine points, six behind the Canadians.