Elena Stern wins Womens Masters Basel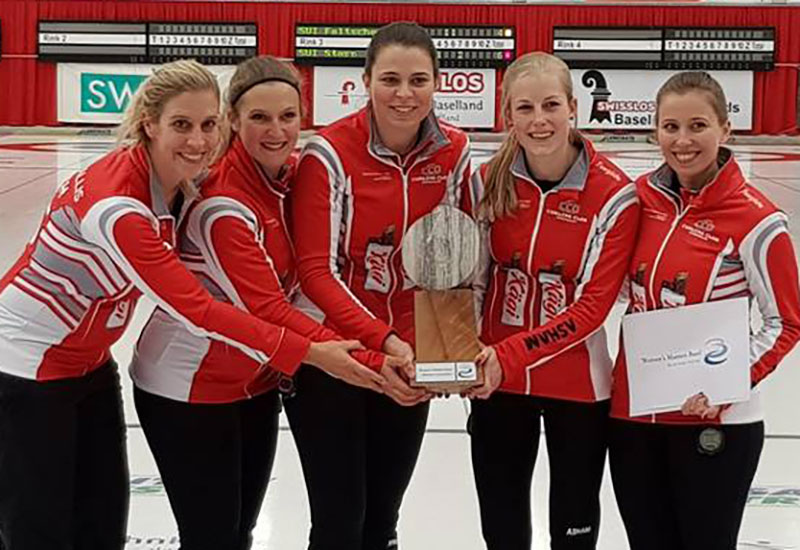 Elena Stern (Oberwallis , Switzerland) wins the Womens Masters Basel, defeating Binia Feltscher (Flims, Switzerland) 6-4 at the Curlingzentrum Region Basel in Arlesheim, Switzerland. Stern as skip throwing third stones with Briar Huerlimann throwing the last stones and Lisa Gisler and Celine Koller on the front end take home the $13,154CDN first place cheque along with 41.836 world ranking points, while Feltscher receives $9,208CDN and 30.680 world ranking points for their second place finish.

Starting with hammer, Feltscher scored 2 in the first end, with Stern responding in the second end scoring 2. Stern added a steals in the third and fourth ends, then forced Feltscher to a single in the fifth end to lead 4-3. Feltscher tied the game with a steal the sixth end, but after scoring two points seventh end, Stern held on running Feltscher out of stones in the eighth end to win 6-4.

In the all-Swiss semifinals, Stern defeated Ursi Hegner (Uzwil, Switzerland) 5-2 and Feltscher defeated Silvana Tirinzoni (Aarau, Switzerland) 8-7. Tirinzoni and Hegner earned $4,604CDN and 23.707 ranking points for their semifinal finishes. In the quarterfinals, Stern defeated Irene Schori (Limmattal, Switzerland) 4-3, Feltscher defeated Sayaka Yoshimura (Sapporo, Japan) 5-3, while Tirinzoni defeated Di Zhang (Harbin, China) 6-4 and Hegner defeated Anna Kubeskova (Prague, Czech Republic) 8-5. Zhang, Schori, Kubeskova and Yoshimura earned $1,973CDN along with 16.734 ranking points for their quarterfinal finishes.

Stern went 3-0 in the 19 team round robin pools qualifying round. In their opening game, Stern defeated Zhang 6-4, won against Daniela Jentsch (Fuessen, GER) 6-3 and finishing up with a win over Nora Wuest (Wetzikon, SUI) 10-1 in their final qualifying round match.