Desjardins/Desjardins wins WCT Austrian Mixed Doubles Cup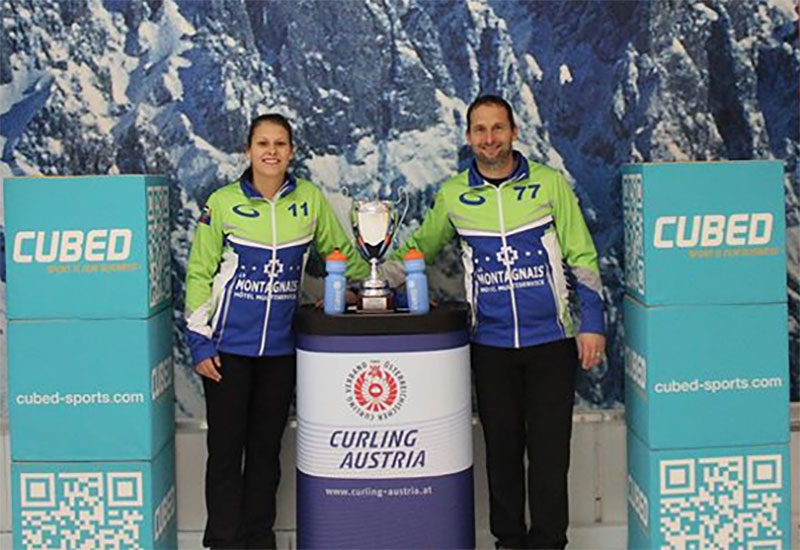 Emilie Desjardins/Robert Desjardins (Chicoutimi, Canada) wins the WCT Austrian Mixed Doubles Cup, defeating Gina Aitken/Scott Andrews (Stirling, Scotland) 7-5 in at the Kitzbuehel Curling Club in Kitzbuehel, Austra. Emilie Desjardins and Robert Desjardins take home the $1,202CDN first place cheque along while Aitken/Andrews receives $901CDN.

Aitken/Andrews opened the scoring stealing 1 in the first end, added another steal in the second end. After Desjardins/Desjardins scored 2 in the third end, Aitken/Andrews responded in the fourth end scoring 2 to extend lead to 4-2. Desjardins/Desjardins scored a single in the fifth end, then forced Aitken/Andrews to a single in the sixth end. Desjardins/Desjardins scored 2 in the seventh end, then stole 2 in the eighth end for the 7-5 win.

In the semifinals, Desjardins/Desjardins defeated Daniela Rupp/Kevin Wunderlin (Zug, Switzerland) 9-8 and Aitken/Andrews defeated Malin Wendel/Fabian Wingfors (Goteborg, Sweden) 9-7. Rupp/Wunderlin and Wendel/Wingfors earned $526CDN for their semifinal finishes. In the quarterfinals, Desjardins/Desjardins defeated Anna Fowler/Ben Fowler (London, England) 9-6, Aitken/Andrews defeated Jayne Stirling/Fraser Kingan (Dumfries, Scotland) 6-5, while Rupp/Wunderlin defeated Ildiko Szekeres/Gyorgy Nagy (Budapest, Hungary) 5-3 and Wendel/Wingfors defeated Miia Turto/Jari Turto (Hyvinkaa, Finland) 10-5. Stirling/Kingan, Turto/Turto, Fowler/Fowler and Szekeres/Nagy earned $263CDN for their quarterfinal finishes.

Desjardins/Desjardins went 3-1 in the 16 team round-robin pools qualifying round. In their opening game, Desjardins/Desjardins defeated Turto/Turto 10-2, then won against Eniko Szabo/Balazs Foti (Budapest, Hungary) 13-3, Desjardins/Desjardins won against Fiona Wunderlich/Till Wunderlich (Oberstdorf, Germany) 9-8, going on to lose losing their next game to Aitken/Andrews 7-6 in their final qualifying round match.

---

ISS Ice, Sports & Solar is title sponsor of the ISS WORLD MIXED DOUBLES TOUR. They are supplying excellence in building 1st class Ice Facilities around the world since 1981. The German based company has also supplied the Curling Ice for the 2016 Men's World in Basel and the 2014 Mixed Doubles and Seniors in Dumfries. In 2017 they built the test Curling Sheets in the Water Cube Beijing for the 2022 Olympics.
Find out more on https://iss4u.de/?lang=en.