Chelsea Carey wins Canad Inns Womens Classic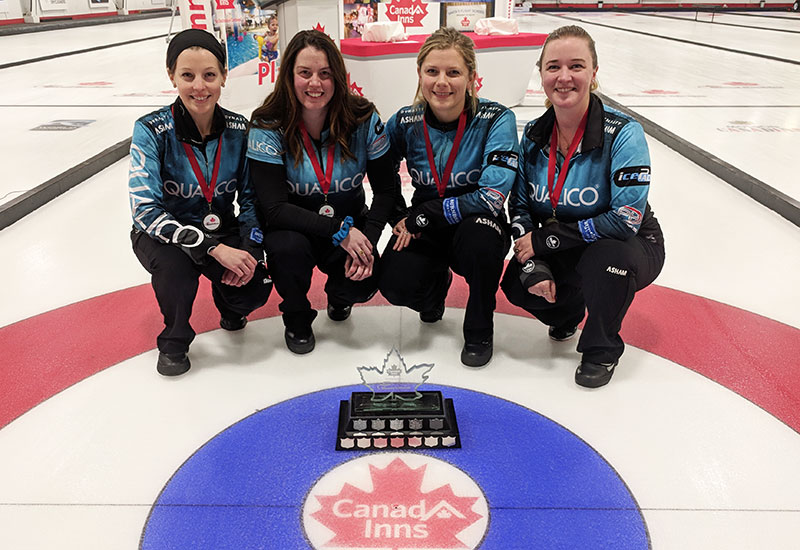 Chelsea Carey (Edmonton, Alberta) wins the Canad Inns Women's Classic, defeating Kerri Einarson (Winnipeg, Manitoba) 7-5 at the Portage Curling Club in Portage La Prairie, Canada. Carey with Sarah Wilkes at third, Dana Ferguson and Breanne Knapp on the front end take home the $15,500CDN first place cheque along with 76.408 world ranking points, while Einarson receives $10,400CDN and 56.032 world ranking points for their second place finish.

After a first end blank, Carey stole 3 in the second end to take an early lead with Einarson responded in the third end scoring 2. Carey scored 2 in the fourth end to extend lead to 5-2, then forced Einarson to a single in the fifth end. Carey scored a single in the sixth end, with Einarson closing the gap to one in the seventh end scoring 2. Coming home up 1 with hammer, Carey scored a single in the eighth end to seal the 7-5 win.

In the semifinals, Carey defeated Sijia Liu (Harbin, China) 7-2 and Einarson defeated Satsuki Fujisawa (Kitami, Japan) 5-3. Liu and Fujisawa earned $6,500CDN and 43.298 ranking points for their semifinal finishes. In the quarterfinals, Carey defeated Chrissy Cadorin (Thornhill, Ontario) 8-6, Einarson defeated Eve Muirhead (Stirling, Scotland) 8-2, while Fujisawa defeated Tori Koana (Fujiyoshida, Japan) 8-3 and Liu defeated Un-Chi Gim (Gyeonggi-do, Korea) 8-2. Koana, Gim won $4,200CDN, while Cadorin earned $4,100CDN along with 30.563 ranking points for their quarterfinal finishes.

Carey went 5-2 in the 32 team triple knockout qualifying round. In their opening game, Carey defeated Ashley Howard (Regina, Saskatchewan) 10-2, then won against Darcy Robertson (Winnipeg, Manitoba) 8-3, losing their next game to Cadorin 6-5 to drop into the B Event. Carey lost again to Seina Nakajima (Nagano, Japan) 8-0 dropping them into the C Event where they responded with a 7-3 win over Jamie Sinclair (Chaska, USA). Carey won against Penny Barker (Regina, Saskatchewan) 6-5, then won against Abby Ackland (Winnipeg, MB) 5-4 in the C-Event Qualifier to reach the playoff round.