Scott McDonald wins Challenge de Curling de Gatineau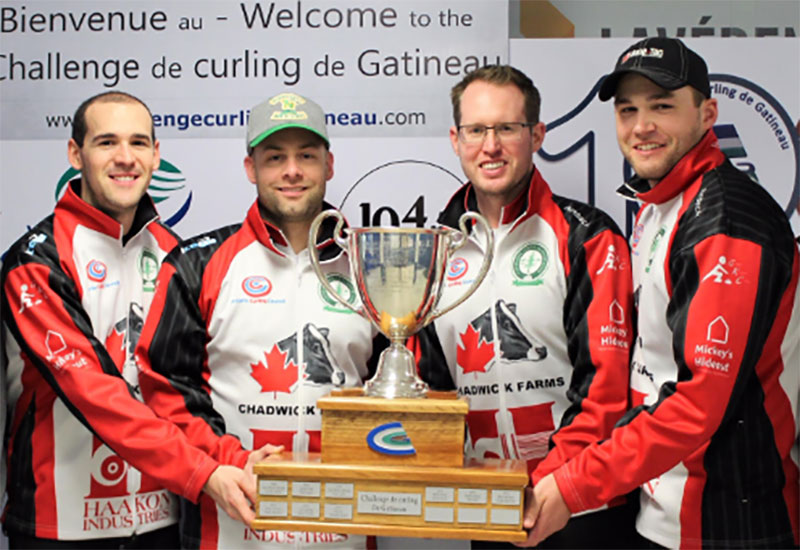 Scott McDonald (Kingston, Ontario) wins the Challenge de Curling de Gatineau, defeating Charley Thomas (Toronto, Ontario) 7-3 at the Centre Sportif Robert-Rochon in Gatineau, Canada. McDonald with Jonathan Beuk at third, Wesley Forget and Scott Chadwick on the front end take home the $11,000CDN first place cheque along with 43.148 world ranking points, while Thomas receives $7,000CDN and 31.642 world ranking points for their second place finish.

McDonald opened the scoring stealing 1 in the first end, with Thomas responding in the second end scoring 2. McDonald scored 3 in the third end, then added a steal in the fourth end to lead 5-2 at the halfway point. Thomas scored a single in the fifth end with McDonald responding in the sixth end scoring 2 en-route to the 7-3 win.

In the semifinals, McDonald defeated Jia Liang Zang (Harbin, China) 8-5 and Thomas defeated Mark Homan (Chelsea, Quebec) 7-2. Zang and Homan earned $4,000CDN and 24.450 ranking points for their semifinal finishes. In the quarterfinals, McDonald defeated Michael Fournier (Montreal, Quebec) 7-6, Thomas defeated Bruce Mouat (Stirling, Scotland) 4-2, while Homan defeated Martin Crete (St-Romuald, Quebec) 6-4 and Zang defeated Qiang Zou (Beijing, China) 4-2. Fournier, Mouat, Crete and Zou earned $2,750CDN along with 17.259 ranking points for their quarterfinal finishes.

McDonald went 5-2 in the 24 team triple knockout qualifying round. In their opening game, McDonald lost 8-2 to Brent MacDougall (Halifax, Nova Scotia) dropping to the B Event where they responded with a 6-4 win over Doug Kee (Ottawa, Ontario). McDonald won against John Epping (Toronto, Ontario) 6-5, losing their next game to Homan 5-3 dropping them into the C-Event where they responded with a 7-0 win over Greg Smith (St. John's, NL). McDonald won against MacDougall 7-5, to advance to the C-Event Qualifier where they won against Steve Allen (Ottawa, Ontario) 5-4 to advance to the playoff round.