Komarova/Goryachev win WCT Mixed Doubles Cup Geising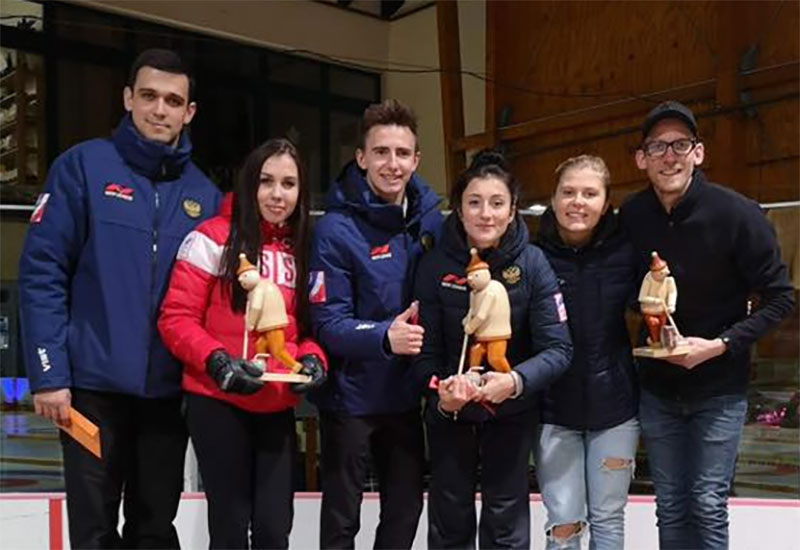 Maria Komarova/Daniil Goryachev (Moscow, Russia) wins the WCT Mixed Doubles Cup, defeating Alina Biktimirova/Timur Gadzhikhanov (Moscow, Russia) 6-5 at SCV Geising in Geising, Germay. Komarova/Goryachev take home the $1,940CDN first place cheque , while Biktimirova/Gadzhikhanov receives $1,343CDN for their second place finish.

Starting with hammer, Komarova/Goryachev scored 2 in the first end, then forced Biktimirova/Gadzhikhanov to a single in the second end. After Komarova/Goryachev scored a single in the third end, Biktimirova/Gadzhikhanov responded in the fourth end scoring 3 to take a 4-3 lead. Komarova/Goryachav were held to a single in the fifth end, then stole 2 in the sixth end to take the lead. Biktimirova/Gadzhikhanov were held to a single in the seventh end, leading to Komarova/Goryachev holding on in the eighth end for the 6-5 win.

Sweden's Johanna Heldin/Kristian Lindstroem defeated Julia Franke/Andy Buettner (Geising, Germany) 9-1 in the third place game to join the Russians on the podium. Ildiko Szekeres/Gyorgy Nagy (Budapest, Hungary) defeated Marta Szeliga-Frynia/Pawel Frynia (Lodz, Poland) 7-6 to finish fifth overall.

In the semifinals, Komarova/Goryachev defeated Heldin/Lindstroem 8-4 and Biktimirova/Gadzhikhanov won 7-5 over Franke/Buettner. In the quarterfinals, Komarova/Goryachev defeated Szekeres/Nagy 5-4, Biktimirova/Gadzhikhanov won 11-1 over Zuzanna Rybicka/Bartosz Dzikowski (Lodz, Poland), Heldin/Lindstroem defeated Dorottya Palancsa/Zsolt Kiss (Budapest, Hungary) 7-6 and Franke/Buettner defeated Szeliga-Frynia/Frynia 9-5.

---

ISS Ice, Sports & Solar is title sponsor of the ISS WORLD MIXED DOUBLES TOUR. They are supplying excellence in building 1st class Ice Facilities around the world since 1981. The German based company has also supplied the Curling Ice for the 2016 Men's World in Basel and the 2014 Mixed Doubles and Seniors in Dumfries. In 2017 they built the test Curling Sheets in the Water Cube Beijing for the 2022 Olympics.
Find out more on https://iss4u.de/?lang=en.