Anna Hasselborg wins Canadian Beef Masters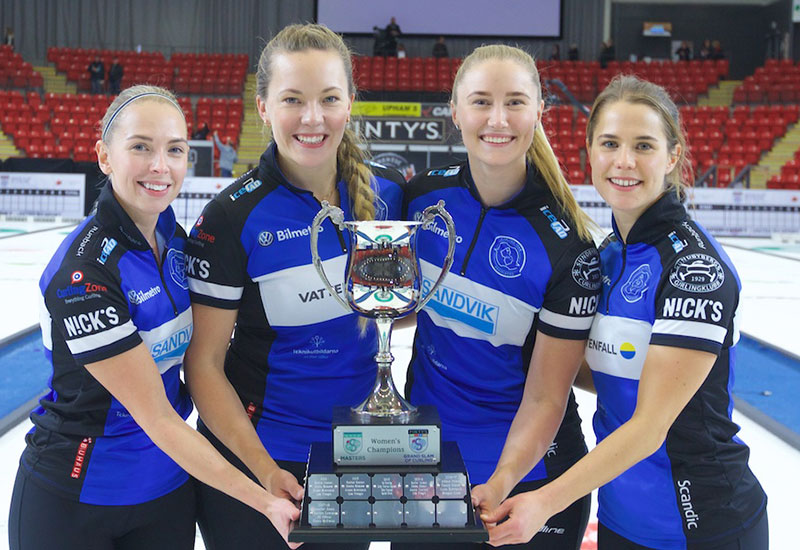 Anna Hasselborg (Sundbyberg, Sweden) wins the Canadian Beef Masters of Curling, defeating Rachel Homan (Ottawa, Ontario) 8-7 at the Rath-Eastlink Community Centre in Truro, Nova Scotia. Hasselborg with Sara McManus at third, Agnes Knochenhauer and Sofia Mabergs on the front end take home the $30,000CDN first place cheque along with 88.553 world ranking points, while Homan receives $18,000CDN and 64.939 world ranking points for their second place finish.

Starting with hammer, Homan scored 1 in the first end, then forced Hasselborg to a single in the second end. Homan scored a single in the third end, when Hasselborg responded in the fourth end scoring 2 to lead to 3-2. Homan scored 3 in the fifth end, when Hasselborg responded in the sixth end scoring 2. Homan scored 2 in the seventh end to take a 2 points lead into the final end where Hasselborg scored 3 in the eighth end for the 8-7 win.

In the semifinals, Hasselborg defeated Casey Scheidegger (Lethbridge, Alberta) 8-4 and Homan defeated Chelsea Carey (Edmonton, Alberta) 6-3. Carey and Scheidegger earned $12,000CDN and 50.180 ranking points for their semifinal finishes. In the quarterfinals, Hasselborg defeated Jennifer Jones (Winnipeg, Manitoba) 8-4, Homan defeated Darcy Robertson (Winnipeg, Manitoba) 8-3, while Scheidegger defeated Tracy Fleury (Winnipeg, Manitoba) 6-4 and Carey defeated Kaitlyn Jones (Halifax, Nova Scotia) 7-3. Jones, Fleury, Robertson and Jones earned $9,000CDN along with 35.421 ranking points for their quarterfinal finishes.

Hasselborg needed a tiebreaker to advance to the playoffs, defeating Kerri Einarson 7-2 after going 2-2 in the 15 team round robin pools qualifying round. In their opening game, Hasselborg lost 6-5 to Scheidegger, then responded with a 6-4 win over Laura Walker (Edmonton, Alberta). Hasselborg won against Jamie Sinclair (Chaska, USA) 7-1, losing their next game to Satsuki Fujisawa (Kitami, Japan) 5-4 in their final qualifying round match.