Kerry Galusha wins Royal LePage Women's Fall Classic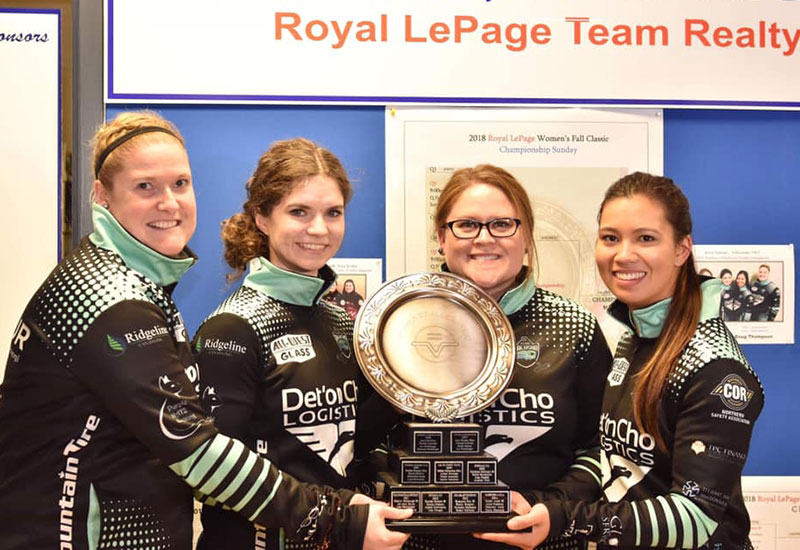 Kerry Galusha (Yellowknife, Northwest Territories) wins the Royal LePage Women's Fall Classic, defeating Mary-Anne Arsenault (Halifax, Nova Scotia) 5-3 at the North Grenville Curling Club in Kemptville, Ontario. Galusha with Sarah Koltun at third, Brittany Tran and Shona Barbour on the front end take home the $6,000CDN first place cheque along with 32.665 world ranking points, while Arsenault receives $4,000CDN and 23.954 world ranking points for their second place finish.

Arsenault opened the scoring stealing 1 in the first end, then added another steal in the second end. Galusha scored a single in the third end, then stole another in the fourth end. Arsenault scored a single in the fifth end to lead to 3-2, then forced Galusha to a single in the sixth end to be tied in the seventh end. Galusha got the key steal on Arsenault to go 1 up, then added another steal in the eighth end for the 5-3 win.

In the semifinals, Galusha defeated Jestyn Murphy (Mississauga, Ontario) 7-6 and Arsenault defeated Isabella Wrana (Stockholm, Sweden) 7-5. Wrana and Murphy earned $2,500CDN and 18.510 ranking points for their semifinal finishes. In the quarterfinals, Galusha defeated Danielle Inglis (Etobicoke, Ontario) 5-4, Arsenault defeated Cathy Auld (Toronto, Ontario) 5-1, while Wrana defeated Emma Wallingford (Ottawa, Ontario) 7-6 and Murphy defeated Amelie Blais (Levis, Quebec) 8-4. Auld, Inglis, Blais and Wallingford earned $1,500CDN along with 13.066 ranking points for their quarterfinal finishes.

Galusha went 3-1 in the 23 team triple knockout qualifying round. In their opening game, Galusha defeated Wallingford 7-6, then won against Selina Witschonke (Luzern, Switzerland) 8-3 to advance to an A-Qualifying game where they lost 6-1 to Murpy. Dropping into a B-Qualifying game, Galusha responded with a 6-5 win over Chrissy Cadorin (Toronto, ON) to advance to the playoff round.