Bruce Mouat wins Mercure Perth Masters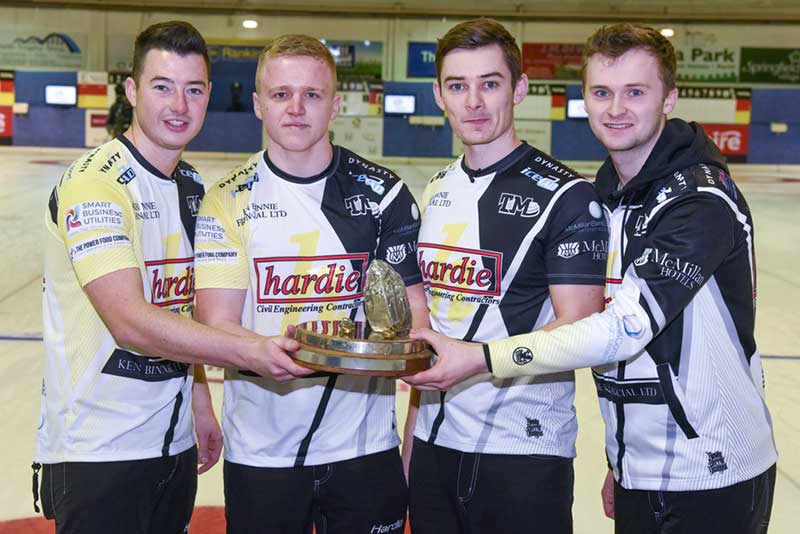 Bruce Mouat (Stirling, Scostland) wins the Mercure Perth Masters, defeating Glen Muirhead (Perth, SCO) 8-3 at the Dewars Centre in Perth, Scotland. Mouat with Grant Hardie at third, Bobby Lammie and Hammy McMillan Jr. on the front end take home the $12,260CDN first place cheque along with 44.760 world ranking points, while Muirhead receives $6,811CDN and 32.824 world ranking points for their second place finish.

Starting with hammer, Mouat scored 1 in the first end, with Muirhead responding in the second end scoring 2. Mouat scored 3 in the third end, then forced Muirhead to a single in the fourth end to lead 4-3. Mouat scored a single in the fifth end, added a steal of 2 in the sixth end, and another steal in the seventh end for the 8-3 win.

In the semifinals, Mouat defeated Robin Brydone (Perth, Scotland) 7-3 and Muirhead defeated Peter De Cruz (Geneve, Switzerland) 7-5 in an extra end. De Cruz and Brydone earned $3,065CDN and 25.364 ranking points for their semifinal finishes. In the quarterfinals, Mouat defeated Lukas Klima (Prague, Czech Republic) 6-3, Muirhead defeated Ross Whyte (Dumfries, SCO) 6-2, while De Cruz defeated Thomas Ulsrud (Oslo, NOR) 8-3 and Brydone defeated Ross Paterson (Glasgow, Scotland) 5-4. Klima, Ulsrud, Paterson and Whyte earned $1,277CDN along with 17.904 ranking points for their quarterfinal finishes.

Mouat went 4-1 in the 25 team triple knockout qualifying round. In their opening game, Mouat defeated Steffen Mellemseter (Oslo, Norway) 8-2, then won against Mikhail Vaskov (Dmitrov, Russia) 6-5 to advance to an A-Qualifier where they lost to Whyte 6-4. Mouat then responded with a 7-5 win over Steffen Walstad (Oppdal, Norway), then won the B-Qualifier game against Muirhead 7-6 to advance to the playoff round.