Turmann/Lill wins Tallinn Mixed Doubles International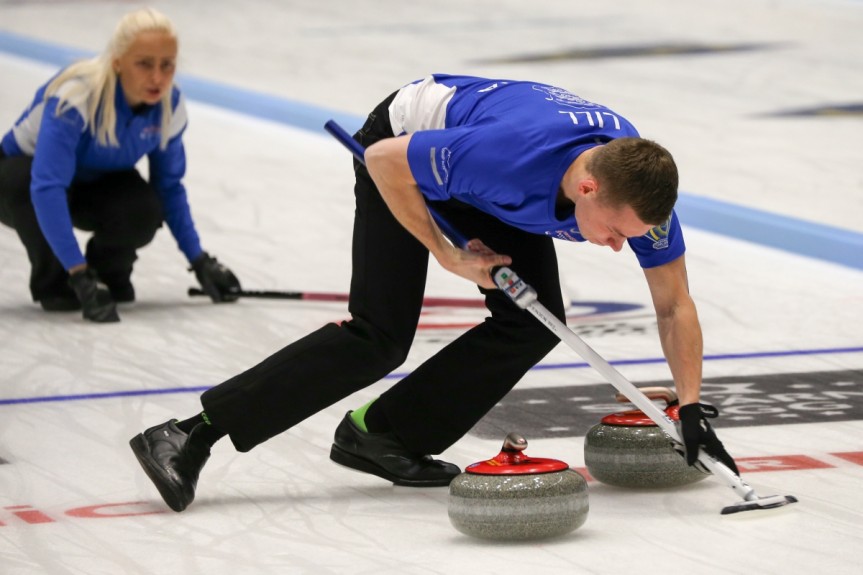 Marie Turmann/Harri Lill (Tallinn, Estonia) wins the CCT Tallinn Mixed Doubles International, defeating Melanie Barbezat/Matthias Perret (Biel, Switzerland) 9-7. Turmann/Lill take home the $809CDN first place cheque, while Barbezat receives $589CDN and for their second place finish.

Starting with hammer, Barbezat/Perret scored 2 in the first end, then added a steal in the second end. Turmann/Lill scored a single in the third end, Barbezat/Perret responded in the fourth end scoring 2 to extend lead to 5-1. Turmann/Lill started the dramatic comeback by scoring 4 in the fifth end, adding a steal of 2 in the sixth end, then another steal of 2 in the seventh end. Barbezat/Perret scored 2 in the eighth end but felll short conceded the game to Turmann/Lill by a score of 9-7.

Jenny Perret/Martin Rios (Zurich, Switzerland) finished third, winning $294CDN winning the third place game 7-5 over Oona Kauste/Tomi Rantamaki (Hyvinkaa, Finland), who took home $147CDN for their 4th place finish.

In the semifinals, Turmann/Lill defeated Perret/Rios 10-8. while Barbezat/Perret defeated Kauste/Rantamaki 7-3. In the quarterfinals, Turmann/Lill won 7-6 over Miia & Jari Turto (Hittenjarju, Finland), Perret/Rios won 6-2 over Sandrine Morand/Romain Borini (Megeve, France), Kauste/Rantamaki defeated Stephanie Wild/Daniel Gubler (Aarau, Switzerland) 8-4 and Barbezat/Perret defeated Daniela Rupp/Kevin Wunderlin (Zug, Switzerland) 9-7.

Turmann/Lill went 3-1 in the 24 team round robin pools qualifying round. In their opening game, Turmann/Lill defeated Kirsten Silcox/Jason Keerak (Revelstoke, Canada) 10-4, losing their next game to Barbezat/Perret 10-5, then responded with a 8-6 win over Dace & Ansis Regza (Riga, LAT). Turmann won against Eszter Juhasz/Markku Uusipaavalniemi (Hyvinkaa, FIN) 8-4 in their final qualifying round match.