Michelle Englot wins Mother Club Fall Curling Classic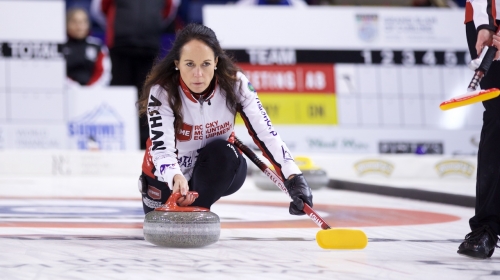 Michelle Englot (Winnipeg, MB) wins the Mother Club Fall Curling Classic, defeating Kerri Einarson (Winnipeg, MB) 6-5 at the Granite Curling Club in Winnipeg, Canada. Englot with Kate Cameron at third, Leslie Wilson-Westcott and Raunora Westcott on the front end take home the $2,000CDN first place cheque along with 27.714 world ranking points, while Einarson receives $1,300CDN and 21.775 world ranking points for their second place finish.

After a first end blank, Englot stole 1 in the second end to take an early lead, then forced Einarson to a single in the third end. Einarson added a steal of 2 in the fourth end, then forced Englot to a single to lead 3-2 after 5 ends. Englot stole the sixth end to tie then game, after which Einarson responded in the seventh end scoring 2. In an exciting finsh to a wild game, Englot scored 3 in the eighth end to sneak out the 6-5 win.

In the semifinals, Englot defeated Darcy Robertson (Winnipeg, MB) 8-3 and Einarson defeated Briane Meilleur (Winnipeg, MB) 4-3. Meilleur and Robertson earned $850CDN and 16.826 ranking points for their semifinal finishes. In the quarterfinals, Meilleur defeated Kristy Watling (Winnipeg, MB) 8-5 and Robertson defeated Jennifer Clark-Rouire (Winnipeg, MB) 7-4. Watling and Clark-Rouire earned $500CDN along with 11.877 ranking points for their quarterfinal finishes.

Englot went 4-1 in the 12 team round robin pools qualifying round. In their opening game, Englot defeated Jackie Dewar (Winnipeg, MB) 6-2, won against Beth Peterson (Winnipeg, MB) 6-2, Clark-Rouire 6-3, and Lisa Menard (Winnipeg, MB) 8-4, before dropping their final round-robin game to Robertson 6-5.