Francois Gagne wins Moosehead Classic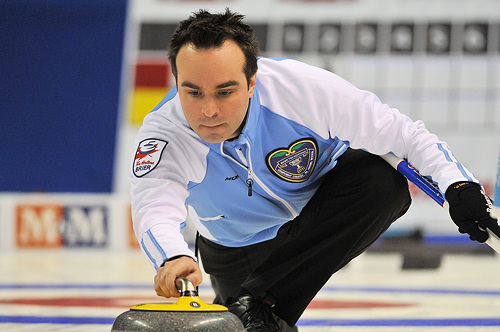 Francois Gagne (Montreal, QC) wins the Moosehead Classic, defeating Jean-Michel Menard (Gatineau, QC) 7-3. Gagne with Jean-Michel Arsenault at third, Erik Lachance and Christian Bouchard on the front end take home the $3,000CDN first place cheque along with 19.417 world ranking points, while Menard receives $2,000CDN and 15.256 world ranking points for their second place finish.

Starting with hammer, Gagne scored 2 in the first end, then added a steal in the second end. After Menard scored a single in the third end, Gagne responded in the fourth end scoring 3 to extend lead to 6-1. Menard scored 2 in the fifth end to cut the deficit, but Gagne scored a single in the sixth end and held on for the 7-3 win.

In the semifinals, Gagne defeated Michael Fournier (Montreal, QC) 8-2 and Menard defeated Martin Ferland (Levis, QC) 6-4. Fournier and Ferland earned $1,500CDN and 11.789 ranking points for their semifinal finishes. In the quarterfinals, Ferland defeated Connor Duhaime (Barrie, ON) 7-0 and Fournier defeated Steve Allen (Ottawa, ON) 6-2. Allen and Duhaime earned $1,000CDN along with 8.321 ranking points for their quarterfinal finishes.

Gagne went 3-0 in the 12 team round robin pools qualifying round. In their opening game, Gagne defeated Brian Lewis (Ottawa, ON) 9-3, won against Sebastien Robillard (Ottawa, ON) 7-0, and Fournier 5-4 in their final qualifying round match.