USA's Nina Roth wins Canad Inns Women's Classic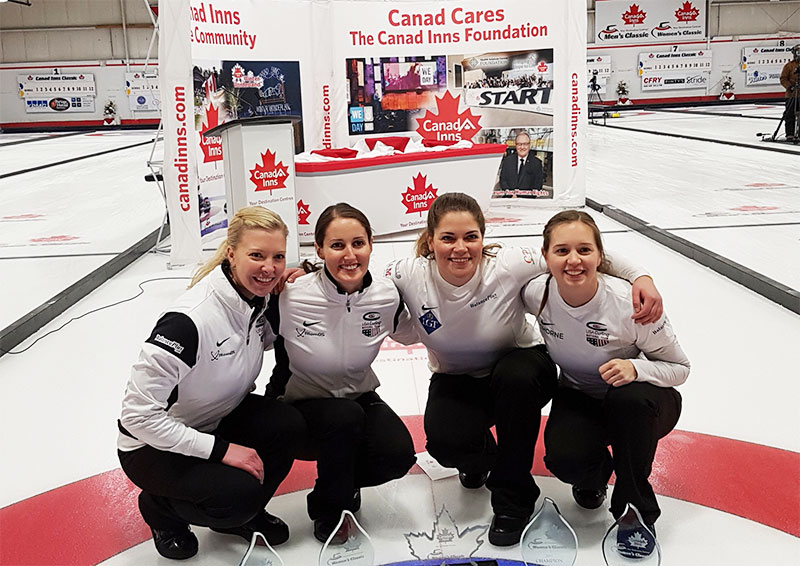 Nina Roth (Blaine, USA) wins the Canad Inns Women's Classic, defeating Anna Hasselborg (Sundbyberg, Sweden) 5-4 in an extra end at the Portage Curling Club in Portage La Prairie, Canada. Roth with Tabitha Peterson at third, Aileen Geving and Becca Hamilton on the front end take home the $15,500CDN first place cheque along with 74.326 world ranking points, while Hasselborg receives $10,400CDN and 58.399 world ranking points for their second place finish.

Starting with hammer, Hasselborg blanked the first 3 ends, then got on the board scoring 2 in the fourth end. Roth responded in the fifth end scoring 2, forced Hasselborg into scoring a single in the sixth end, and then Roth scored 2 in the seventh end to take a 4-3 lead. Hasselborg scored a single in the eighth end sending the game to an extra end where Roth scored their single point for the 5-4 win.

In the semifinals, Roth defeated Kelsey Rocque (Edmonton, AB) 6-4 stealing an extra end and Hasselborg defeated Kerri Einarson (Winnipeg, MB) 6-2. Einarson won $6,500CDN, while Rocque won $6,400CDN along 45.127 ranking points for their semifinal finishes. In the quarterfinals, Roth defeated Jennifer Jones (Winnipeg, MB) 8-3, Hasselborg defeated Chelsea Carey (Calgary, AB) 6-5, while Einarson defeated Sherry Middaugh (Coldwater, ON) 5-3 and Rocque defeated Cory Christensen (Blaine, USA) 8-3. Middaugh, Christensen, Carey and Jones earned $4,200CDN along with 31.854 ranking points for their quarterfinal finishes.

Roth went 5-1 in the 32 team triple knockout qualifying round. In their opening game, Roth defeated Ayumi Ogasawara (Sapporo, Japan) 6-3, then won against Silvana Tirinzoni (Aarau, Switzerland) 6-5, before losing their next game to Einarson 7-4. Roth responded with a 10-4 win over Chantelle Eberle (Regina, SK). another win over Nadine Scotland (Calgary, AB) 5-4, and then won against Einarson 9-8 in their B Qualifier match to qualify for the playoffs.