Jean-Sebastien Roy wins Challenge Nord-Ouest Air Creebec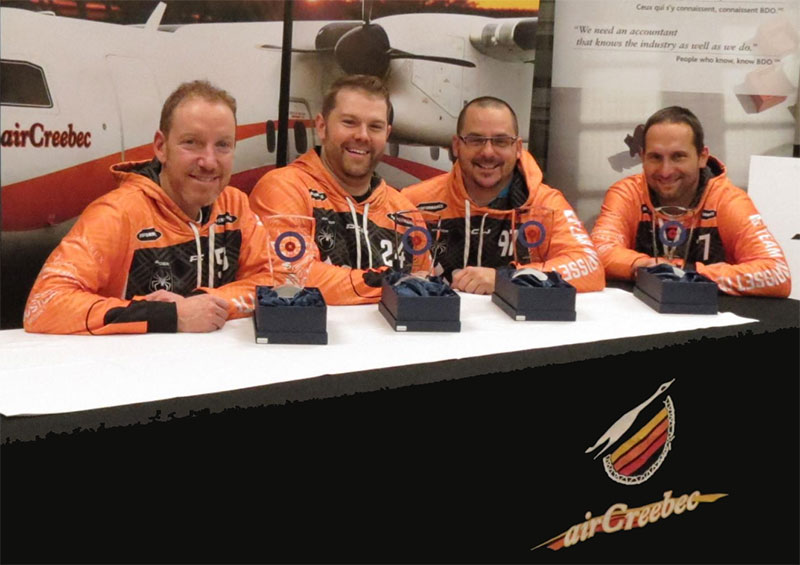 Jean-Sebastien Roy (Chicoutimi, QC) wins the Challenge Nord-Ouest Air Creebec, defeating Michael Fournier (Montreal, QC) 3-1 at the Club Sports Belvedere in Val d'Or, Canada. Roy as skip throwing third stones with Robert Desjardins throwing the last stones and Pierre-Luc Morissette and Rene Dubois on the front end take home the $3,164CDN first place cheque along with 14.220 world ranking points, while Fournier receives $1,964CDN and 11.173 world ranking points for their second place finish.

Starting with hammer, Roy blanked the first end, got on the board scoring 2 in the second end, adding a steal in the third end. After a blank end, Fournier scored a single the fifth end to trail 3-1 after which Roy held on for the win.

In the semifinals, Roy defeated Francois Gagne (Montreal, QC) 3-2 and Fournier defeated Ghislain Doyon (Val d'Or, QC) 8-3. Gagne won $1,004CDN, while Doyon won $904CDN along 8.634 ranking points for their semifinal finishes. In the quarterfinals, Roy defeated Sylvain Bellavance (Montreal, QC) 7-6 in an extra end, Fournier defeated Martin Roy (Thurso, QC) 5-1, while Doyon defeated Martin Ferland (Levis, QC) 5-3 and Gagne defeated Louis Biron (Buckingham, QC) 7-4. Ferland, Bellavance, Biron and Martin Roy earned $344CDN along with 6.094 ranking points for their quarterfinal finishes.

Roy went 4-0 in the 25 team round robin pools qualifying round. In their opening game, Roy defeated Stephane Villeneuve (Val d'Or, QC) 6-5, won against Steve Holdaway (Montreal, QC) 3-2, and Bruno Crepeault (Val d'Or, QC) 9-5. Roy then won against Marc-Andre Chartrand (Val d'Or, QC) 6-5 in their final qualifying round match to advance to the playoffs undefeated.