Kevin Koe wins Ashley Home Store Curling Classic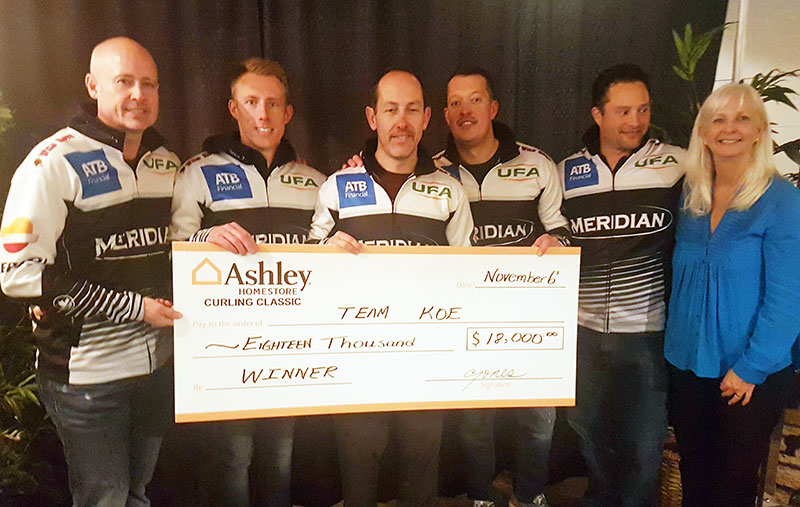 Kevin Koe (Calgary, AB) wins the Ashley Home Store Curling Classic, defeating Niklas Edin (Karlstad, Swedem) 7-6 in an extra end at the Penticton Curling Club in Penticton, Canada. Koe with Marc Kennedy at third, Brent Laing and Ben Hebert on the front end take home the $18,800CDN first place cheque along with 54.907 world ranking points, while Edin receives $13,000CDN and 43.141 world ranking points for their second place finish.

Koe opened the scoring stealing 1 in the first end, Edin responded in the second end scoring 2. then added a steal in the third end. Koe scored 3 in the fourth end to take a 4-3 lead with Edin scoring 2 in the fifth end to retake the lead. In the sixth end, Koe scored another 2 point end to lead 6-5. After a blank end, Edin scored a single the eighth end sending the game to an extra end where Koe scored a single point for the 7-6 win.

In the semifinals, Koe defeated Peter De Cruz (Geneva, Switzerland) 8-6 and Edin defeated Mike McEwen (Winnipeg, MB) 5-4 in an extra end. McEwen and De Cruz earned $7,000CDN and 33.336 ranking points for their semifinal finishes. In the quarterfinals, Koe defeated Tom Brewster (Aberdeen, Scotland) 4-3 in an extra end, Edin defeated Sean Geall (Kelowna, BC) 4-1, while De Cruz defeated Reid Carruthers (Winnipeg, MB) 5-3 and McEwen defeated Patric Mabergs (Skelleftea, Sweden) 9-0. Brewster, Mabergs won $3,800CDN, while Carruthers and Geall earned $3,600CDN along with 23.531 ranking points for their quarterfinal finishes.

Koe went 4-1 in the 24 team qualifying round. In their opening game, Koe defeated Jaap van Dorp (Zoetermeer, Netherlands) 8-0, won against Glen Jackson (Victoria, BC) 8-4, and Dean Joanisse (Maple Ridge, BC) 5-2 Koe lost their next game to De Cruz 6-4, bouncing back with a 6-2 win over Chris Baier (Victoria, BC) in their final qualifying round match to qualify for the playoff round.